Pump Component Manufacturer
OEM Pump Castings
The primary focus at Northern Stainless is producing castings for the OEM pump industry. We've chosen pump components as our principal concentration because their casting are among the most complex, both in alloy and design.
Challenging patterns and castings are our specialty, and our facility allows us to produce them with short lead-times. While most of our products are rough castings ready for machining, we are also capable of producing finished machine casting when stipulated.
Castings for the Original Equipment Pump Manufacturing Industry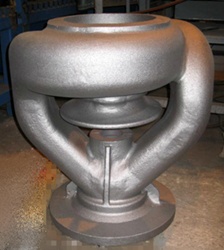 OEM pump customers need numerous types of pump components. As such, we produce every single component required to complete the hydraulic end of a pump unit using corrosion-resistant alloys. The most commonly requested castings are impellers, series case diffuser bowls and volute pump cases.
In addition to matching any order for pump components, our products come with outstanding finishes through our use of multiple sand mixtures and special washes. The interior surfaces of pump component castings are critical for consistent hydraulic performance. This is why we pressure test all components to ensure the integrity of our castings. Northern Stainless guarantees no leaks through casting walls of our products.
Wisconsin Foundry Trusted by Global Companies
Pump component casting is about 80% of our business at Northern Stainless, and this has allowed us to form a specialization in the OEM pump industry. International pump manufacturers such as Flowserve, SPX and ITT Goulds turn to us for our casting expertise. Our ability to meet short deadlines with top quality, pressure-containing castings for our customers is what sets us apart from the competition.
Contact the pump component casting experts at Northern Stainless for a free quote today.