Foundry Casting Product Supplier
Northern Stainless primarily produces castings for the original equipment pump manufacturing industry. We also focus on supplying castings for the valve manufacturing industry and making specialty castings for the paper mill and mining industries. We have concentrated on these markets because they typically require the most complex castings, in both design and alloy.
Our facility layout and installed equipment allow us to manufacture highly intricate castings with short lead-times in order to meet customer demands. Consistent quality assurance procedures are also used in the manufacture of castings for these markets. The majority of our products are rough castings, however finished machine castings can be provided when required by our customers.
Stainless Steel Pump Components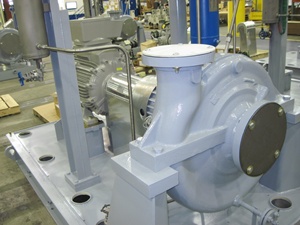 Pump OEMs require many different styles of pump components. Northern Stainless accommodates any request because we manufacture all casting components needed to complete the hydraulic end of pump units. The most common castings we manufacture are the series case diffuser bowl, volute pump case, and all types of impellers. We use various core sand mixtures and special washes to produce superior finishes for our products. This is essential because the interior passageway surfaces of pump component castings are critical for hydraulic performance. In addition to offering a variety of alloys for corrosion resistant applications, Northern Stainless also pressure tests all pump housings to ensure the integrity of our castings. We guarantee zero leakage through casting walls of any of our products.
USA Valve Casting Manufacturer
Inline valves are the most common valve castings we offer. We also manufacture butterfly and ventilator valves, as well as strainer bodies. The most common materials purchased include steel, Ni-Resist irons, and corrosion resistant alloys. Northern Stainless meets its customer's requirements for superior casting finishes, casting quality, and dimensional accuracy every time.
Foundry Casting for Paper and Mining Industries
Northern Stainless has focused on the paper industry because our pump and valve customers supply many products to this industry. Furthermore, there is a demand for these challenging types of castings within this market. The demanding nature of paper production requires equipment built with the highest quality components.
Ongoing Emphasis On The Principles Of Lean Manufacturing And Of Sustainability Allow Northern Stainless To Deliver More Value To Our Clients
Additionally, we produce replacement wear parts for mining equipment. The mining industry warrants machinery able to withstand harsh conditions. Our metal casting expertise affords us the ability to manufacture any part for mining machinery, whether the part is mass-produced, discontinued or from a custom design. The broad range of cast materials we produce, combined with short lead-times and responsiveness, has benefited our growth in these markets.
Contact the pump casting specialists at Northern Stainless for all your OEM pump and valve casting needs.